Necessity was indeed the "mother of invention" for Elizabeth Mozer who decided to start her own food distribution business when she couldn't source food locally for her husband's movie theater operation.
"I realized there was a missing piece [in the industry] and focused first on getting food service and agricultural customers. I soon found retail chain grocers were our primary customers, along with independent coffee shops and food suppliers." 
LoCo Food Distribution was started in 2011 and grossed $60,000 in its first year. Based in Fort Collins with deliveries as far north as Cheyenne and south to Colorado Springs, Elizabeth has grown her business to bring products from a 400 mile radius to Colorado's Front Range and generated $4 million a year in sales in 2017. The bulk of her 15 employees are sales people, an office/warehouse team and drivers who help her provide "streamlined local sourcing," by "offering Colorado retail establishments an easy way to purchase from over 150 local brands that are grown and/or processed within Colorado, and Colorado brands an easy way to reach wholesale buyers in the state."
GROW
Elizabeth originally funded her startup with inheritance money but knew she needed more capital to grow it as she envisioned.
"I attended an event at Innosphere and was referred to Colorado Enterprise Fund (CEF)," she recalls. "I didn't qualify initially but eventually applied for an SBA Community Advantage loan and Healthy Foods funding, and got both!"
Elizabeth also worked with CEF's Business Acceleration Services (BAS) consulting team to outline her next steps for growth.
THRIVE
Now LoCo Food Distribution provides numerous food brands to national grocers like Safeway, Sprouts, Natural Grocers and Whole Foods Market stores in Colorado and beyond. Elizabeth also hosts a tradeshow each spring to connect 70+ local food producers with new retail customers statewide. She plans to start a social media campaign as well to help stores find out what locally-sourced food she distributes.
Like the local food her business distributes, Elizabeth has grown her business just as organically and credits CEF for making the road to securing capital an easy one.
"Finding capital can be hard to navigate," she remarked. "Having options that aren't banks, like CEF, was key to getting financing for my business.
Thanks to the following collaboration partner: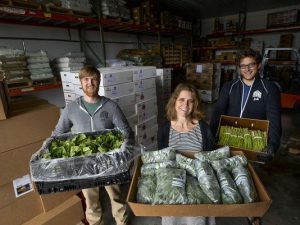 .