Important Message!
DownHome Solutions (our loan servicing software) will soon release a major upgrade to the Online Payments module. The rollout will require us to temporarily suspend the ability of borrowers to submit online payments beginning Sept. 21, 2023. This update may take up to a week to complete. All payments dated after Sept. 21, 2023 will process when the updated system goes live. We appreciate your patience during this maintenance period and apologize for any inconvenience.

CEF customers can view their loan information in our Customer Portal!
All new customers should receive instructions on how to set up an account. This will arrive on a statment a few weeks prior to your first payment. If you do not, please contact our servicing department.
To access the portal, you need an account that requires an email address and password. Once you create an account, CEF will be notified to validate your account. After CEF validates the account, you will be ready to go.
Use the CEF Customer Portal to access your loan information 24/7!
See loan balance, interest rate, closing date, and next payment date
View and download transaction history
Make additional payments
View your scheduled recurring payment
View and download amortization schedule
Download payoff statement
Send messages to CEF's servicing department for payment-related matters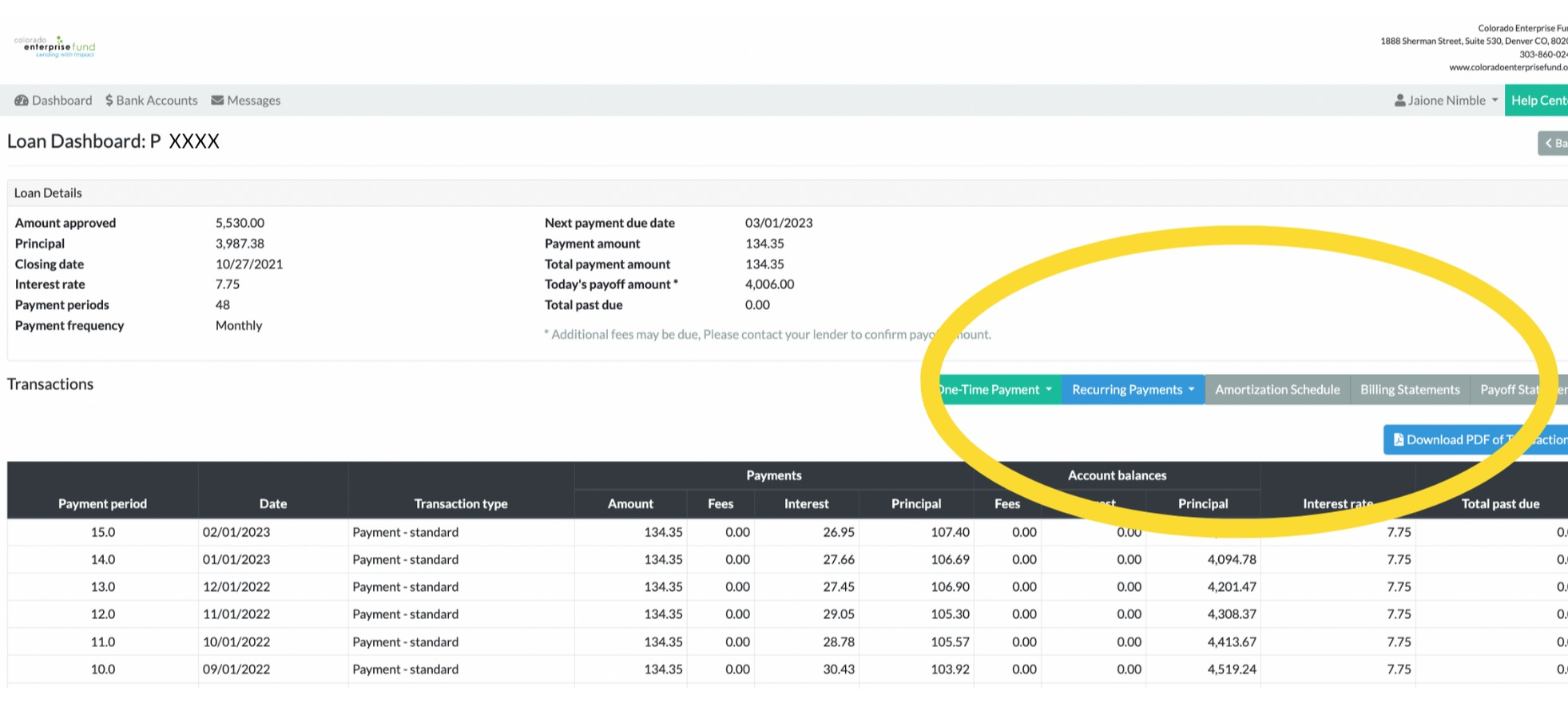 "How to" Instructions are available at the help center.
Registration
Adding a bank account
Submitting a payment
Note on loan payoff statement:
** There may be additional fees associated with your loan payoff. The statement downloaded will serve as a general amount. You should contact CEF servicing department for a complete payoff statement.
Note on additional payment:
If you make an additional payment to your loan, your bank statement will likely reflect a payment to DownHome Solutions (our loan servicing software) rather than Colorado Enterprise Fund. Depending on your bank, it can also take up to 7 days for the additional payment to clear and then be credited to your loan balance.
General FAQs for the Online Customer Portal