Guide to Creating a Time Management Plan
---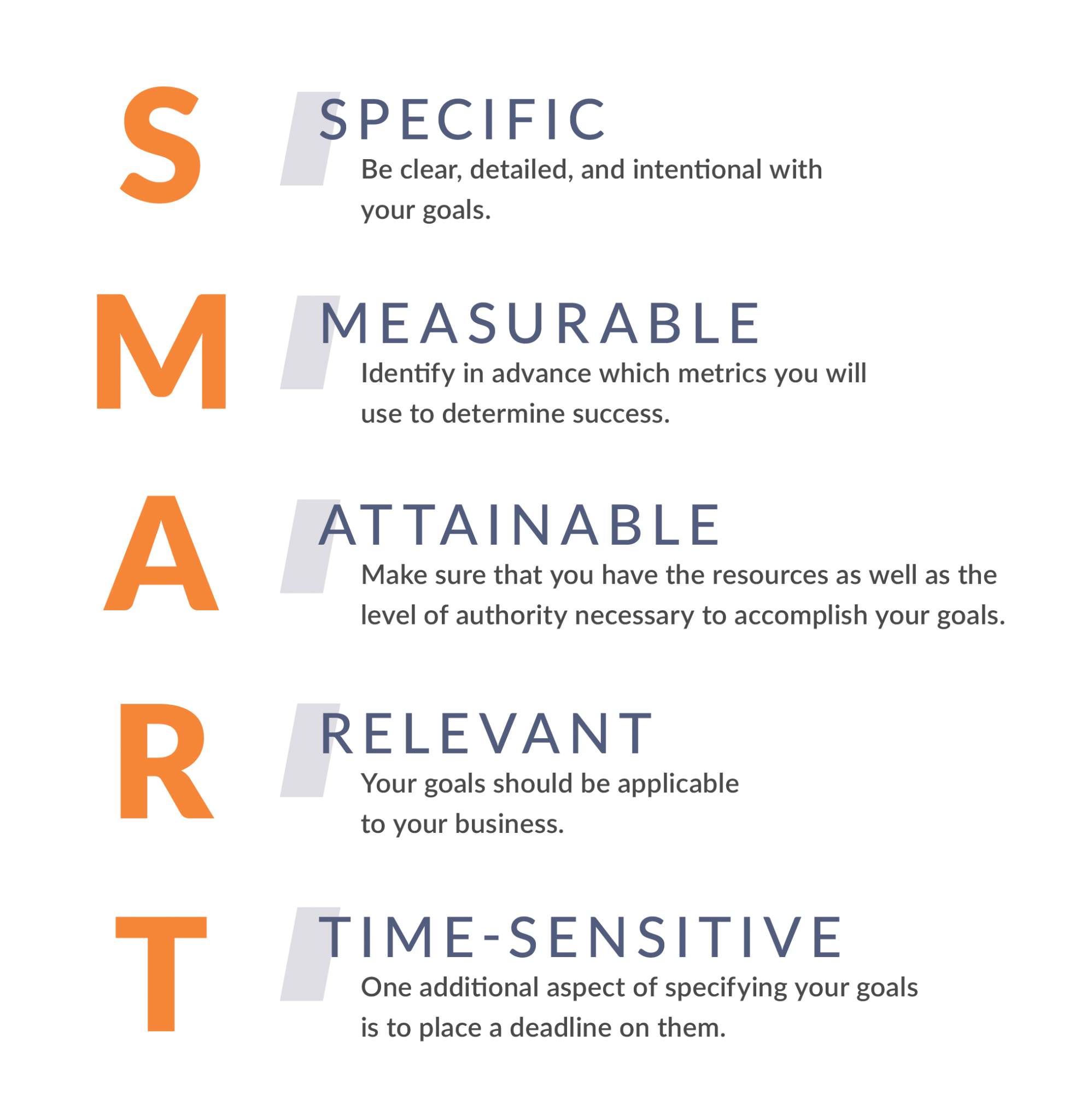 It is easy for business owners to fall into the trap of working in their business instead of working on their business.
Making time to work on your business is critical. It will allow you to build a sustainable business and take time away from the day-to-day, which helps prevent burnout.
Four benefits of successful time management are:
Increased business, which creates more income
Increased focus and organization
Less stress
More time for family, friends, and other interests
In business, your plan will help you prioritize your work and keep you focused on completing the most important tasks every day. A good time management plan must be in writing and contain a list of prioritized tasks on a daily, weekly, and monthly basis for achieving your goals.
Here are three steps for creating your plan.
Step 1: Clearly define your goals – Utilize SMART goal formatting and identify each as a short-term (quarterly), mid-term (12 month), or long-term (2 to 5 year) goal. Example: A general goal is 'I will increase my sales this year' while a SMART goal is 'I will generate a minimum of $6,000 in sales each month, beginning in November of this year.'
Step 2: Breakdown each goal into clearly defined tasks – Identify the "who, what, when, how, and why" for completing each goal. By determining what needs to be done to achieve each goal, not only will it create a plan of action but it will also allow you to see what resources are needed and how to allocate them. Tip: Determine how your goals align with your business plan and review them monthly or quarterly to ensure continued alignment.
Step 3: Prioritize your tasks – Assign a priority level (low, medium, or high) to every task under each step. Once you know the levels, rearrange your tasks in order of priority and allocate ample time to the most critical tasks. Tip: Always try to complete the most important tasks first. They usually have the greatest impact on your goals and, in turn, your bottom line.
As with most plans, this should be a live document that you continuously review and update. And remember, while it is important to keep making progress towards your goals, be sure not to neglect your on-going business activities such as handling administrative tasks, maintaining inventory, and managing your financial records.


CEF's advisors provide helpful suggestions of an educational nature that are not intended to mandate or supersede the business practices or decisions of your Company, its owners, or managers. The information provided in this guide does not, and is not intended to, constitute legal advice; instead, all information, content, and materials available herein are for general informational purposes only. You should contact your attorney to understand your rights and for legal advice about your specific situation.

This information was created in partnership with Northern Initiatives and participating entities through Initiate Prosperity. Check out the full library of small business resources on the Initiate Prosperity: Powered by CEF site.
Go Back