START
Falling in love happens. First with friends, then with a city, and finally with a business idea. For restauranteurs Sean Gafner and Dan Lance, relocating with their families from northern California to northern Colorado proved to be a timely decision. One full of hope, opportunity and great-tasting grub.
It all started with a rooster crow on a morning jog. Dan was inspired to open a bar and music venue in Longmont and found a building for sale on Longmont's Main Street. They soon realized the quality of the local community and healthy economy would bode well for success. Sean wrote a business plan about his vision for their restaurant and they bought the building in late 2014. A few months later they opened The Roost, with chef/owner Sean serving New American pub grub and local craft beers daily, and Dan booking free live music downstairs and on the rooftop bar.
GROW
To open their new rustic-chic restaurant, Sean and Dan needed a larger kitchen and cooking equipment. Having exhausted their savings and family support, they approached a local bank for a conventional loan but were turned down. Sean was then referred to Colorado Enterprise Fund (CEF) where he got a loan to purchase two new refrigerators, expand his cooks line and still have money for the official opening.
"It's virtually impossible to get a restaurant loan unless you've been in business for two years and own your own building," Sean remarked. "It's hard for start-ups to get funding so having access to CEF was a god-send."
THRIVE
Since opening in 2015, The Roost has grown in popularity and community impact by using local meat suppliers and farm produce in season. Its success inspired Sean and Dan to open a second Main Street restaurant in 2016 called Hefe's Tacos & Tequila offering modern Mexican fare plus 60 kinds of tequila.
"We've added 100 jobs to Longmont," Sean states. "We've also received seven Best of Boulder County awards, a Rookie of the Year award from Longmont Chamber and had an award named after us by Denver's Adoption Options agency called The Roost Award." This award is given to businesses whose business models support adoption. Dan and his wife Alyssa have adopted children so 10% of all profits from both restaurants go toward funding adoption through their nonprofit affiliate, TheRoosterParty.org.
"If you offer a great product in a great atmosphere," Sean said in an interview with the Daily Camera, "people will walk for miles and climb trees and do whatever they have to do to get there." Spoken like a true transplant and successful small business owner.

Thanks to the following collaboration partner: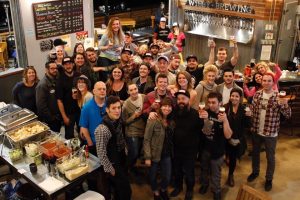 .