START
Life-changing events can drive changes in your lifestyle. That was the case for Denver native Rise Jones, co-owner of TeaLee's Tea House and Bookstore, located near the historic Five Points neighborhood where she grew up.  Faced with tackling a rare form of leukemia, Rise's husband and TeaLee's co-owner, Louis Freeman, asked her what she wanted to do after she recovered. She said, "Open a tea house." Specifically, one that would cater to Afro-centric culture and the Five Points community, over soothing cups of tea, cake and conversation.
The journey to launch her new small business was almost as challenging as Rise's diagnosis and recovery. From drafting the initial business plan in 2012 to finding a store location in 2015 and initial financing in 2016, Rise and Louis overcame many obstacles to officially open Tealee's in early 2018. "The developer had delays with renovations to the century-old building, so we didn't get our Certificate of Occupancy until November 2017." As a result, they had to refile expired business paperwork and start a GoFundMe page to keep going
GROW
Rise got help from Colorado Enterprise Fund (CEF) in 2016 after attending a small business workshop where she met a CEF staff member who qualified her for a gap loan. She and Louis also took advantage of CEF's free Business Acceleration Services (BAS) for legal assistance to set up their new business for success.
"CEF was the bridge for us," remarked Rise. "Its community focus and flexible financing were critical to getting us through a tough time."
THRIVE
Now open Tuesday through Saturday with a growing customer base following major media coverage of their opening, Rise and Louis see their business being more than just a tea house.  It's become a gathering place for locals wanting to preserve Denver's rich black history and customs. The cozy shop features African-inspired jewelry, art, textiles, and a bookstore downstairs where afternoon tea is served. Pastries, salads and sandwiches are made from scratch by onsite chef, Olu Augustine, who incorporates North African flavors into TeaLee's menu. Another small business, Chocolate Lab, provides sweets for sale.
"CEF is a wonderful organization," Louis said. "They and other angels have come through for us when we needed help."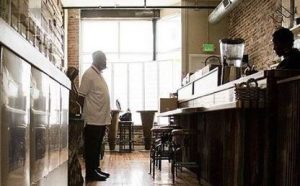 .