START
Starting small and dreaming big. First with one converted truck, then another. That's how Adrian and Desiree Gallegos-Baragan began their mobile fashion business after Adrian completed an "art-trepreneur" class at a university in downtown Denver. "We're both creative types," said Desiree. "For me it's clothes, for Adrian, it's art. We wanted to be able to earn a living off of offering our goods."
After discovering how expensive brick and mortar rent could be, Adrian and Desiree researched the trend in mobile retail and decided this new business model was more feasible. "We were used to moving around and displaying our goods at flea markets and with pop ups," Desiree recalled. "It seemed the right step to take after I got laid off." One of the first mobile boutiques to hit Denver's streets in 2013 and soon the only to one in the country to boast two vehicles, Denver Fashion Truck's smartly-clad and furnished vehicles display the works of 40 local designers plus their own art and vintage pieces, and can be found at events and festivals throughout Colorado.
GROW
Embarking on their initial mobile boutique idea required some "boot strap" financing which included using money from their flea market sales as well as some of Desiree's severance pay. When Adrian and Desiree wanted to expand to a second truck in 2015, they needed more financing and were referred to Colorado Enterprise Fund (CEF) by US Bank. Their CEF loan allowed them to buy and renovate their second bus including upgrading the interior with new décor, inventory and amenities, plus painting the exterior.
"Securing funding for a creative venture is a necessity and an advantage," observed Desiree. "The problem with bootstrapping is you spend your savings so it's nice to have the fallback that CEF provides."
THRIVE
In 2016, Adrian and Desiree's dream to open a brick and mortar storefront came true as they celebrated their business's third anniversary. They were able to lease a 600 sf shop in north Denver, create three more jobs and feature the works of more local artists in this new location. "Our customers know they'll always find something original in our shop – be it upcycled urban chic or Colorado-themed designs," Desiree commented. "Being able to show more people what we have now in our community and still be mobile is the best."
Denver Fashion Truck was also named the best mobile boutique in 2016 by 5280 Magazine. "If you have a passion for something, you might end up working hard," remarked Adrian. "But the satisfaction you get and the sense of accomplishment we feel are worth it." They share that feel-good spirit with their monthly Canned Goods promotion for a good cause, with designers donating one canned food item to a local charity for each item sold.
"Colorado is full of creative entrepreneurs," Desiree concluded, "and if CEF helps one to start, or has in our case, it's helped to grow another creative small business."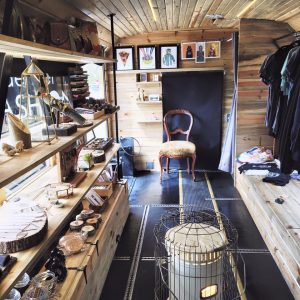 .