START
The Five Points neighborhood in Denver has become known for many things in its long history. These days, it's also becoming known for something else – coffee.
Coffee at The Point opened in November 2010 by sole owner, Ryan Cobbins. Despite the lasting impacts of the Great Recession and the negative stereotypes of the neighborhood, Ryan (a self-declared "eternal optimist") wanted to provide people a place where they could gather and build connections.
"There's nothing more optimistic than sharing a cup of coffee. But it's not just about the cup of coffee, it's about the interactions you have with people over the cup of coffee," Ryan says.
GROW
A few years into running his business, Ryan looked into additional funding options to help keep things moving. When he couldn't get conventional banks to help him out, he turned to cash advance loans. Not before long, Ryan realized these cash advances were only a short-term fix and, when he started thinking about his 2019 goals, he knew he had to do something different. Ryan remembered hearing about CEF and gave them a call.
THRIVE
With the funding from CEF, Ryan was able to restructure his debt, resulting in a savings of about $4,000 a month. Now, he's able to set his sights on expansion and how he can take better care of his staff.
Coffee at The Point has received numerous awards, the latest being the 2018 Denver Metro Chamber of Commerce Small Business of the Year. No matter the number of plaques on his wall, though, Ryan says success is relative and that there's "a long way to go from where I want us to be… but being nine years old now, I know where I want to be." Expansion being part of that vision, Ryan hopes to be able to partner with CEF again to make it happen.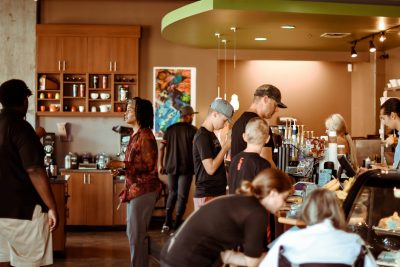 .