START
With roots in Colorado and Mexico, experience running family businesses and an entrepreneurial spirit, it was just a matter of time before Valerie Beltran and her husband, Cesar, opened their own Mexican grill and meat market in Northglenn.
Returning to Colorado after the recession, Valerie and Cesar worked in government jobs but felt limited in what they could accomplish. They had raised six children and operated a business in New Mexico. So, opening a small store and market in Northglenn didn't seem that risky.
GROW
With business plan in hand and a rental space in mind, Valerie went to the City of Northglenn and was referred to Colorado Enterprise Fund (CEF) for financing. She qualified for a loan to help renovate and equip their new business, Beltran's Meat Market.
"We've had several loans with Accion and banks," Valerie recalled, "But we had a much more positive, actually, incredible experience dealing with CEF. They were way faster than a bank."
THRIVE
The store opening went well with sales posting higher than expected. "We couldn't have done what we did like we wanted without CEF," remarked Valerie. Their grocery store/meat market continues to have a big impact on the local community garnering Westword's Best Taco in Denver award in 2018 and the City of Northglenn's Rookie Business of the Year honor.
With their children grown, Valerie and Cesar plan to expand the business with CEF's help. As for being an asset to small businesses in Colorado, Valerie responded, "CEF offers a huge service for the community. The financial resources and business education CEF provides is a package deal. To have this all in one place makes a big impact on small business."

Thanks to the following collaboration partner: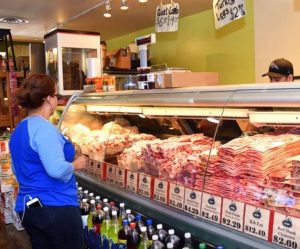 .