START
Leigh and Bart first started making t-shirts and hats to give to friends and family as a fun hobby. They never imagined their efforts would snowball into what is now the #1 kiosk brand at Denver International Airport (DIA) but, that's just what happened. BE HIPPY, the couple's grassroots lifestyle brand, exemplifies a passion for music, the outdoors, traveling, fashion, and living life to the fullest.
GROW
After Leigh and Bart saw there was a demand for their products from their friends and family, they started traveling the country to sell their t-shirts and other goods at music festivals, holiday shows, street fairs, and more. For four years, they spent more than 40 weeks a year on the road. Eventually, this started to take its toll. That's when the couple decided they had to consider a different option.
Now, after about a year and a half after coming back to Denver, BE HIPPY has three kiosk locations at DIA plus a brick-and-mortar store located on South Broadway. They also went from having zero to 20 employees, with another ten to be added by the end of this year.
It wasn't an easy journey to get to that point, though. Leigh and Bart needed cash to open their first kiosk but were turned down by several different banks.
"We realized pretty quickly that banks were limited with that they could do," says Bart. They found CEF thanks to a professional referral and, with their loan from CEF, they were able to launch their kiosks and later their storefront.
THRIVE
"Just the sheer number of people we can touch [at the airport] allows us to grow the brand and tap into markets we never thought we'd be in," Bart remarks.
BE HIPPY is excited to soon open a fourth airport kiosk, as well as a distribution center, so they can continue to spread peace, love, and the reminder to BE HIPPY.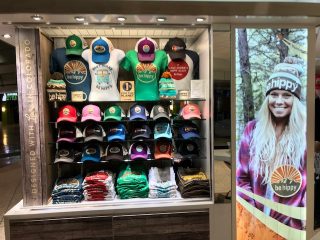 .